We are a company based in Madeira Island, Portugal. We focus our services on people with reduced mobility. Our concept is based on the finding of the physical barriers that people in wheelchairs face on a daily basis. From stairs to high walks.
Our role is to minimize these barriers and provide transportation services and carrying out activities so far difficult or even impossible for people with difficulty in locomotion, as is the case with the levadas. Our motto is "THE IMPOSSIBLE WILL BE POSSIBLE".
In order to achieve this goal we have specific equipment, such as an adapted vehicle, folding ramps and a wheelchair for all-terrain, unique in Portugal.
Our island is a land with a huge beauty, mountains and sea. In these mountains there are the "Levadas", a designation that gives itself to an irrigation canal or aqueduct covered by a walking path and are specific to the island. These canals are longer than 2000 km and are likely to be covered on foot. Due to their landscape beauty, and their involvement in nature, they are much sought after by those who visit us.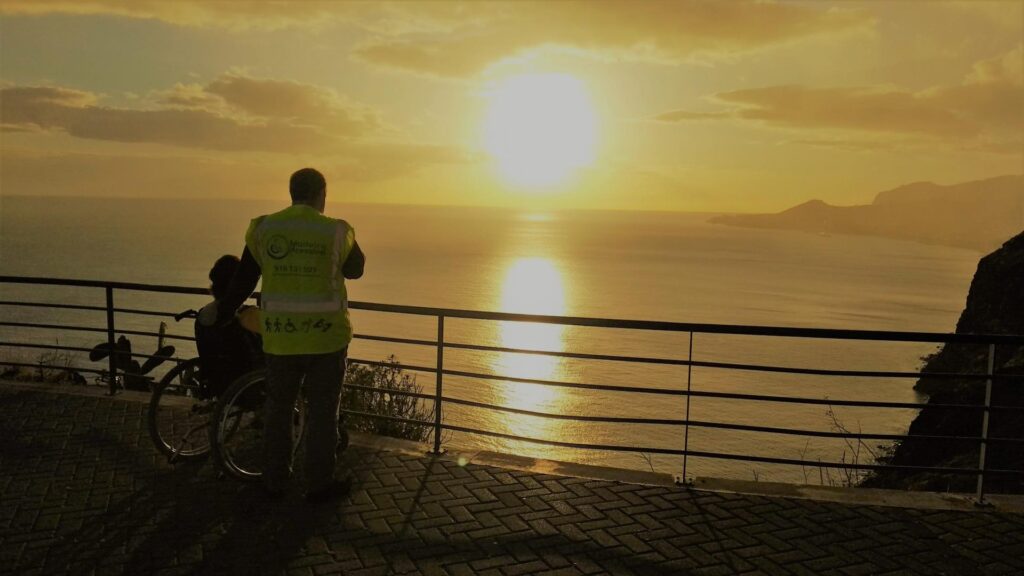 Most have no width, no wheelchair access, but we were able to list and do two with our All Terrain wheelchair, these being the Balconies and the Fires. The first has a duration of 1h30 m and at the end, has a viewpoint overlooking the mountains, where we can feed the birds (which simply come to have our hands) and contemplate the silence. The second also has an average duration of 1h30m and at the end has access to a small park with ducks, plants and a café with some cakes and drinks. (Queimadas Park)
But we do not stop here, we also do the normal tourist tours, where people can visit several emblematic places of Madeira, such as the viewpoint of Cabo Girão or the Ponta do Pargo Lighthouse.
In addition to these two locations, we have more variety of places to visit, such as museums, wicker factory, wine and embroidery, distilleries, gardens, such as the botanical garden. The latter only with the appeal of the off-road chair.
All are part of our portfolio, and always contemplate accessibility for our customers and the certainty that they can discover them in total security.
All our routes go through adapted toilets.
Our car is adapted up to 3 wheelchairs and up to 7 people (always depending on the size and quantity of wheelchairs).
Finishing with a description of our services (with driver and a guide except transfers where only the driver goes):
Routes in specific levadas
Sightseeing tours around the island
Transfers airport or port/hotel
Pickup and drop off (example: going to dinners or specific locations)